Hemeltaartdag 2012
.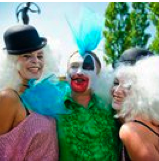 Treat & Kluun proudly present:
HEMELTAARTDAG 2012 (wordplay on the Dutch word for Ascension day and Pie throwing)
The legendary pie throwing party in Amsterdam!
Thursday 17th of May, starts at 14.00 hours.
Outside at Panama's terrace.
Oostelijke Handelskade 4
Entrance: free, but no admission without ammunition!
Ammunition: A minimum of 3 pies or 9 large chocolate puffs or 2 boxes of cream cakes or a busload of cream puffs or an overdue Easter cake or some well preserved crumble pie or a pallet of custard or a fat other type of throwable pie. If you want to remain in the battle, you'd better bring a lot of cream type weapons!
(Preferably bring ammunition that is past it's due date, the organization of Hemeltaartdag would rather work with out of date cream pies and cakes)
Participants: All ages are welcome but you need to be taller than 140 centimetres.
Onlookers are welcome at their own risk.
Dress code: arrive as a glamour-clown or dress up in slapstick-chique !
Limited washing is available outside, so bring clean clothes and a towel. The cloakroom is open at Panama.
You're welcome to start drinking in your courage from 14:00 hours onwards. You can set up your cream pies and cakes and search out your target.
The start will commence at 15:30 hours after we have explained the rules of the game to everyone. There is a big BBQ on the terrace afterwards.
Please sign up via facebook.com/Hemeltaartdag if you want to join in. Any questions? Email us at: gooien@hemeltaartdag.com
The total sum, the full 100 % of all the income on Hemeltaartdag goes towards the CliniClown Foundation in the Netherlands.